.....#3 - Severalls





I find myself desperately disappointed with my photos. A single villa at Runwell - perhaps only a hundredth the size of Severalls - yielded ten times as many images, while Rauceby, too, at barely a quarter the size, offered up a similar amount. After my initial incursion, I made three further visits, yet on each occasion still came away with very little of any interest. Countless shots of corridors and wards, but beyond the odd mural or walking frame, almost nothing of any real significance. Runwell boasted several boxes of report books; Rauceby: hospital radio and the Heartbreak Kid; yet the most personal thing yielded by Severalls were some unopened admittance slips. To an extent not seen anywhere else, the entire complex has been stripped bare – (apparently to limit the risk of fire) – with even the banisters torn emphatically from the wall. Indeed, it was extremely depressing to realise that the more interesting signs of life in the hospital were actually delivered by vandals….

Corridors/Space




And of course the few remaining traces of staff or patients, ensured that above all I was struck by the architecture of the hospital – the degree to space shaped experience and interaction ..(one of the major themes of Diana Gittens' study of the hospital). Stripped of all furnishings, staff, patients - and left with nothing but bare walls and ceiling tiles - I realised just how oppressive these institutions can be - each space or sub-space so enclosed that all sense of the outside world is quickly obliterated. ...Indeed, to me, Severalls spoke not so much of death, but rather of oblivion - a kind of atemporal bleakness - and many of the accounts in Gittens book testify to something similar. (The architecture so restrictive and oppressive that it rendered many patients mute and defeated – content to do little more than rise, eat and then shuffle back to the ward for their medication..)




...................




...................




...................





...................

Records




It was only on my final visit last week that I stumbled across some paperwork from the hospital's past – several boxes of admittance slips from chaplain's office. In addition to the medical forms to be filled in upon admittance, it appears that a separate one on religion affliation also had to be completed – and literally thousands of these forms had somehow found their way to the base of a stairwell. There was no indication of the reason for admittance, and only the faintest hint of the patient's personal situation – many forms simply carrying the annotation: "relatives not to be informed".




Sadly, it appears that earlier visitors had discovered these boxes and decided to scatter their findings across the corridor – the floor of an entire passageway now given over to patients' names and addresses. [I gathered up and replaced what I could, but with a breeze blowing paper into one of the airing courts, it was a pretty thankless task…]. The most remarkable thing about these boxes, however, (apart from the fact that they were once used for crackers!) was that they also contained hundreds of unopened envelopes (again all addressed to the hospital chaplain). Clearly, each contained nothing more than backlogged admittance slips, but it's hard to imagine a more direct link to the hospital's past (..or a more obvious illustration of its decline).




...................




...................




...................



Cells




When documenting these asylums, I feel a very real obligation to their former inhabitants – a responsibility to capture and communicate something of the hospital's importance. If nothing else, they were a home for thousands of people for several years, and in a great many cases, an entire lifetime – and so for that, at least, they deserve enormous attention and respect. Many staff, too, devoted their entire lives to care of the mentally ill – while even those for whom it was a mere stopover (80% of entrants to psychiatric nursing left before completing training) were still deeply marked by the experience. (even for my grandmother, who ended her career as a psychiatric nurse over thirty years ago, it remains the most enduring experience of her life).




..These hospitals were also frequently the nexus of entire communities (as late as the 1980s, for instance, my best friend's eighth birthday party took place in the social centre at Warley) - and despite the fear they engendered or the horror stories that sometimes emerged, they still achieved a great deal that was positive. More than anything, though, it is about not taking these abandoned buildings for granted, or seeing them merely as playgrounds for bored adolescents. It is vital never to lose sight of their original purpose, and I only wish that I had found this slightly easier at Severalls.




This sense of obligation has an obvious personal component too. As mentioned earlier, my entire family have worked in psychiatric hospitals at one stage or another, while I have even spent time inside as a volunteer myself. There is also the medical history of my father. An epileptic for most of his life, had he been born thirty years earlier, he'd almost certainly have found himself confined to one of these wards - (epileptics being one of the main groups interned until as late as the 1960s.). – and so these asylums have an immense personal resonance and significance. Having grown up in the shadow of Warley, they have also been an object of fascination since childhood – while now, as a young adult, I find myself increasingly drawn toward those struggling on the very edge of society.




However minor the contribution, I also feel it's important to salvage as much information as possible about individual asylums. The primary and secondary literature on psychiatric care is now fairly robust – but there still exist few studies specific to any one hospital. With their rapid closure, and the greater appeal of other branches of history of medicine, (or even just local history), most hospitals are now passing into dereliction with almost no one interested in recording their history. (At Severalls, for instance, Gittens recalls finding several boxes of case notes about to be incinerated - yet they would go on to be one of the cornerstones of her work.).. These asylums really do represent a forgotten and ignored world - and deserve considerably more attention than they currently receive. .. .. […When I think how often normal hospitals appear in the press, be it in the form of charity appeals or news articles, the silence regarding asylums becomes even more shocking. Even when a Chinese asylum seeker committed suicide at Warley, the local paper chose not to mention it, concentrating instead upon a local dog show. (It is only now that it is to be converted into luxury apartments that the hospital is at last deemed newsworthy).]

...................

Kitchens




...................




...................






...................


Art


With paperwork at a minimum, the more personal traces were actually to be found on the walls of the hospital itself. While most corridors were merely whitewashed, I was amazed to discover that those branching off the kitchens were covered in collages and murals. (each contribution signed, and sometimes dated, by a patient). The quality of each painting, too, surprised me, with even those of little artistic merit impressing me through their innocence.

...Birds in flight, windmills, sailboats – in all but a handful of cases, the murals were loaded with symbols of freedom and renewal. Indeed, each painting was gloriously free of cynicim – a childlike sense of wonder informing everything from the mist of a water fountain to the softness of a young bird's plumage..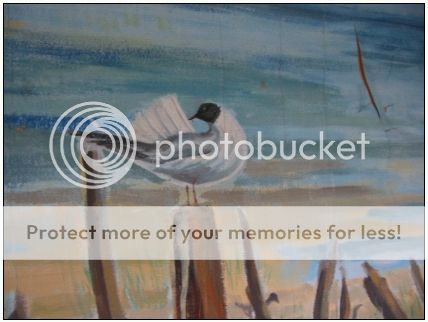 ...................




...................




[In some ways, the corridors can even be seen as an analogue of the evolution of care itself. At first constructed with holes instead of windows, the corridors proved austere and windswept, mirroring the rather brutal views on patient welfare and recovery. The introduction of windows in 1950s, however, accompanied a more respectful, palliative approach to patients, with far greater attention now paid to quality of life rather than internment. …And then in its final few years, as the barriers between staff and patients collapsed, and friendships were permitted to form, a final humanising touch in the form of murals and decoration.]

...................

Wards




...................




...................




...................




...................




...................

Hall

The main hall at Severalls is perhaps the most impressive of its kind still in existence, and certainly the area of the hospital to which most trespassers and vandals seem to gravitate. Despite this, however, whilst most of the windows have now been smashed and a few holes burnt in floor, the basic structure of the hall remains largely intact – and there are even a few mementoes of past productions to be found on the floor or in storage. As at Rauceby, amateur dramatics seem to have flourished at Severalls, with hundreds of costumes and props still stored beneath the stage (everything from a parasol to a tutu).




...................




...................




...................

Laundry




Due to its proximity to the main entrance, the laundry was perhaps the most vandalised section of the hospital – though again this amounted to nothing more serious than litter or graffiti (the officer's wash house renamed "sex room", for instance) In fact, with its walls playing out conversations, and its floors strewn with bottles and cans, the vandals had impressed so much of themselves upon the building that at times it felt more like a youth centre than a laundry. They had even constructed a lifesize dummy and then hung it, head bowed, from the rafters.




...................




...................




...................

Industrial Heart




...................




...................




...................




...................

Wards






...................




...................






...................




...................




...................




...................

Graffiti

It was odd how even vandals seemed to accord the more beautiful sections a begrudging respect. Even on my last visit, by which point the ballroom and laundry had been almost completely covered in paint and signatures, there remained not one piece of graffiti on any of the murals. Perhaps it is simply that security excludes all but the must determined of intruders, although personally I'm more willing to assign it to innate decency. ..Indeed, I've always found the blanket condemnation of vandals curious and reactionary - particularly in the case of abandoned buildings such as Severalls. The hospital is certain to be demolished, its interior only ever likely to be seen by workmen or trespassers, and I struggle to see what harm a few errant drawings could possibly do. As Gittens asserts repeatedly, it was the staff and patients that made these places – and what remains at Severalls is interesting only for the light it casts on that period - the muted echoes in the form of baths or hymn sheets – not the future of the building itself.




Even if this were not the case, however, I'd still look upon graffiti with rather more affection than most. The fact that people are interested enough to explore such a place and to register their response, no matter how banal or vulgar, is something to be celebrated, I feel. They may rarely detail anything more than tumescent spurts or signatures, but this response is no less valid or important than any other. At heart it is no different to a child carving its initials in a tree, or a couple scratching their names into the side of the Eiffel Tower – and in the case of a condemned building like Severalls, such actions are perhaps even less worthy of reproach. Besides, I doubt anyone hasn't at some stage written their name somewhere too. (my own name, for instance, is inscribed alongside that of a girlfriend in a forgotten corner of Oxford – and when pressed, the rest of my family happily confessed to something similar.) It's a natural human response that graffiti artists have simply chosen to express with rather more flair than most. [.."A pencilled scrawl on the azurite beside a holy well in the Kerzhenets forest, hieroglyphs on the ruined temples of Karnak, inscriptions on the triumphal arches of the Caesars." - in each case an emotional response that is in fact little different to that of the vandals at Severalls.]




..Indeed, these signatures (particularly when dated) fit perfectly into the general atmosphere of decay and mutability. …As the senator in Ivan Bunin's short story Graffiti explains: "all human inscriptions are epitaphs, in as much as they refer to moments which have already gone, to fragments of a life which is already dead" – and when approached in the right way, graffiti can be every bit as affecting as an unmade bed or charge sheet. And then there is the pathos of the act itself, of course. Beyond any issues of artistic worth, to me graffiti represents wasted beauty, wasted youth – (and in the case of Severalls, an immense sadness that these people were only able to find solace in the blitzed-out carcass of an asylum.. )


…
…


In many ways, it is also a reflection of how unnerving such places can be. In use, hospitals are frenetic - everything geared toward survival, protection – and to see one lying derelict is a extraordinarily difficult thing to confront. My own coping method is to place a camera between myself and the asylum; and I imagine a spray-can serves much the same purpose. "Photography becomes a way of limiting experience, of assuaging disorientation" and by turning their attention to a single wall or window pane, I can't help but feel that the vandals are attempting something similar. (the atmosphere at Severalls so oppressive that your only option is to concentrate upon a single detail and to try to possess it in some way)


...................

Miscellanea




...................




...................




...................




...................




...................

Admininstration Block




...................

Outbuildings




...................




...................


Afterglow


In the brief twilight between closure and demolition, many of these hospitals enjoy one last hurrah of activity. The more picturesque asylums like Warley frequently find themselves being used as film sets, while even the more unsightly hospitals such as Severalls are at the very least used for police training. ..Exploring one of the buildings to the west of the site, I stumbled across the remnants of one such exercise. Walls were covered in phrases such as "negotiators" and "rifle control", while the upper floors were littered with briefing sheets about child hostages and final demands.




...................

Cricket Pavillion




...................




...................

Chapel




With its oak-panelled doors and grilled windows, the chapel at Severalls proved completely inaccessible. From the little I could see through the keyhole, it had been completely stripped of all furnishings, with even the base of the altar now ripped up and removed. At the rear of the chapel, however, there remained one last vestige of the hospital's heyday - a beautiful stained glass window of the Holy Trinity. Desperate to get a better look, I even climbed onto the roof, though unfortunately found my view blocked by one of the colonnades.

Admittedly little more than a red-brick banality, the chapel nevertheless made a deep impression upon me. While the interior seemed suitably humble and serene, more than anything I was struck by the beauty of the chapel's setting. Located on the very perimeter of the site, and encircled by a ring of towering birches, the whole area seemed exceptionally peaceful – a glorious corrective to the chaos and pandemonium of the wards..





Grounds

In almost all accounts I've read of the hospital, be they by staff or patients, one of the most common motifs is the hospital's grounds. Many patients speak not just of their calming effect, but also of their contribution towards recovery.

...................




...................




I find it particularly sad that so few hospitals now make provision for some kind of garden or rest area. Only today, for instance, I took my grandmother to Oldchurch for an MRI, yet when we went in search of some fresh air, the best on offer was a car park. Addenbrookes, too, is much the same, and I imagine a similar situation is to be found in the rest of country. Indeed, it has only been at Harold Wood, where my grandfather was treated over ten years ago, that I've encountered a hospital willing to make any kind of concession to nature. (..even though it amounted to little more than a few square metres of grass and flowers, it made such a difference to him to be able to sit somewhere peaceful, if only for a few minutes.) These asylums were founded largely upon a belief in the importance of fresh air, space and nature - and I find it rather sad that this ideal has now been abandoned almost in its entirety.




...................




...................




...................

Wildlife




One feature of asylums to which I doubt I shall ever adjust is the silence. Going about my everyday life, I failed to appreciate the persistence of some kind of background noise. Even when walking in the countryside, there is always the background ferment of crickets or squirrels – and it is only really in an abandoned building that you are able to experience a silence that is absolute and sustained.. By the time I'd made it to the kitchens even the sound of a shirtsleeve brushing against my waist seemed deafening.

Unlike at Runwell or Rauceby, I found few traces of pigeons, foxes.... Indeed the only sign of life came in the form of an occasional butterfly - in each room, announcing their presence through a soft, repeated thud as they tried to find a window through which to escape. [ …By the end of my first visit, I'd even taken to walking round with a camera in one hand, and a plastic box in the other. Each time I caught sight of a butterly, I'd clamber onto the windowsill, catch it in the container, and then release it through the nearest opening]



[1] All quotations from Madness in its Place: Narratives of Severalls Hospital, 1913-1997 (London, 1998).



________________________________________________________________




home